Thomas Sider, Co-Editor-in-Chief
Downtown Toronto is a paragon of late night, big city affairs. The ROM stands an eight-minute subway ride away from the CN Tower. Toronto's extending crowds lead into the University of Toronto's Varsity Centre and the Royal Conservatory of Music, across the street from the slimmer crowds of young adults and teens equipped with fake IDs entering their selected bars for the night. The Bloor-Yonge intersection lies just a few blocks east. Turning south on Yonge reveals a different sense of a big city: one of detachment and poverty, wonderfully depicted within the Yonge-Charles McDonald's.
The see-through façade of the restaurant combined with the electronic ordering system provides a new, modern feel. However, this modern feel is contrasted by the various personalities one witnesses after dusk: an aggressive young man that wanders between the customers, eyes drawn towards frightened guests; a group of drugged-out clubbers, led by one arrogant figure, speaking loudly and abruptly over his sycophantic friends; a hooded group of teenagers; and those that have fallen asleep, foreheads glued to the tabletops.
Chrisishta Hardware, a late-night cashier, spends two nights a week working the night-shift. She is usually one of two visible employees behind the counter, who often call out the order number five or six times before a dreary customer becomes fully aware that their McDoubles have begun to stale just two feet to their left. Many of her coworkers spend their time off work studying for their classes at George Brown College. Hardware takes as many nightshifts as possible, usually two per week, to ensure her friends have sufficient time to excel at school. These young cashiers have adapted to the enigmatic and often misogynistic mobs that stumble into the restaurant; many of whom I came to know personally, as they banged their fists against their tables at my approach, or grabbed at my phone as I photographed a subject. "We're right beside a club," says Hardware. "We get lots of drunk customers saying, 'nice ass' or 'can I have blah-blah-blah with you'…I don't get scared, just annoyed." The employees "know how to deal" with the more impudent guests who violently overstay their welcome. Every shift, at least one violent shouter or unconscious solicitor is escorted off the premises by either the manager or a police officer. However, from the cashiers' perspective, the customers may come to relax, as long as their behaviour does as well. "I don't mind," says Hardware, discussing the frequency of homeless customers. "Shelters are full, it's a problem."
It is a problem. As the temperatures drop below -20°C in late December and early January, Toronto's shelters often struggle to find room for the homeless. Throughout the extreme cold weather, the homeless are left on the street as shelters reach full occupancy—and sometimes, even when they don't, with many shelters falling short of capacity throughout the winter. But even when shelters manage to reach full occupancy, the homeless are still at risk of victimization and the spread of infection. The 24-hour dependability of a restaurant often seems superior to the uncertain conditions of shelters.
It is these guests that can shift the restaurant's familiar and vintage image into one of despondency. One such guest, Roger, the extroverted church volunteer, equipped with a garbage bag full of wooden carvings of trout, door-knockers, and dogs, is a regular in the eventide McDonald's scene. Roger was the first to initiate conversation. He immediately told his story, recounting the death of his mother, father, and sister at a young age. "I ran away from my foster home with my dog," Roger said, "we ate squirrels for a week." Roger began to struggle with drug abuse during his teenage years, and continues his struggle to this day. Even through his dejection, Roger is still able to embrace and display hope and kindness with his respective bevy of poems and compliments. A poem he recited for me by memory, "Crystal Heart," was taught to him by his mother at a young age and helped him cope with his taxing childhood. Today, he finds even more relief through poems such as William Wordsworth's "If Thou Indeed Derive Thy Light From Heaven," another poem he recited from memory. Roger does not shy from sharing his contentment. "People find it very easy to confide in you," he said to me. "We need more of this in the world—it's called compassion." Roger's past has given him a seemingly unmatched sense of consideration for others, as proven by his knowledge of the struggles and deaths of his friends, and those of Syrian refugees, stating, "we will never fathom what they went through."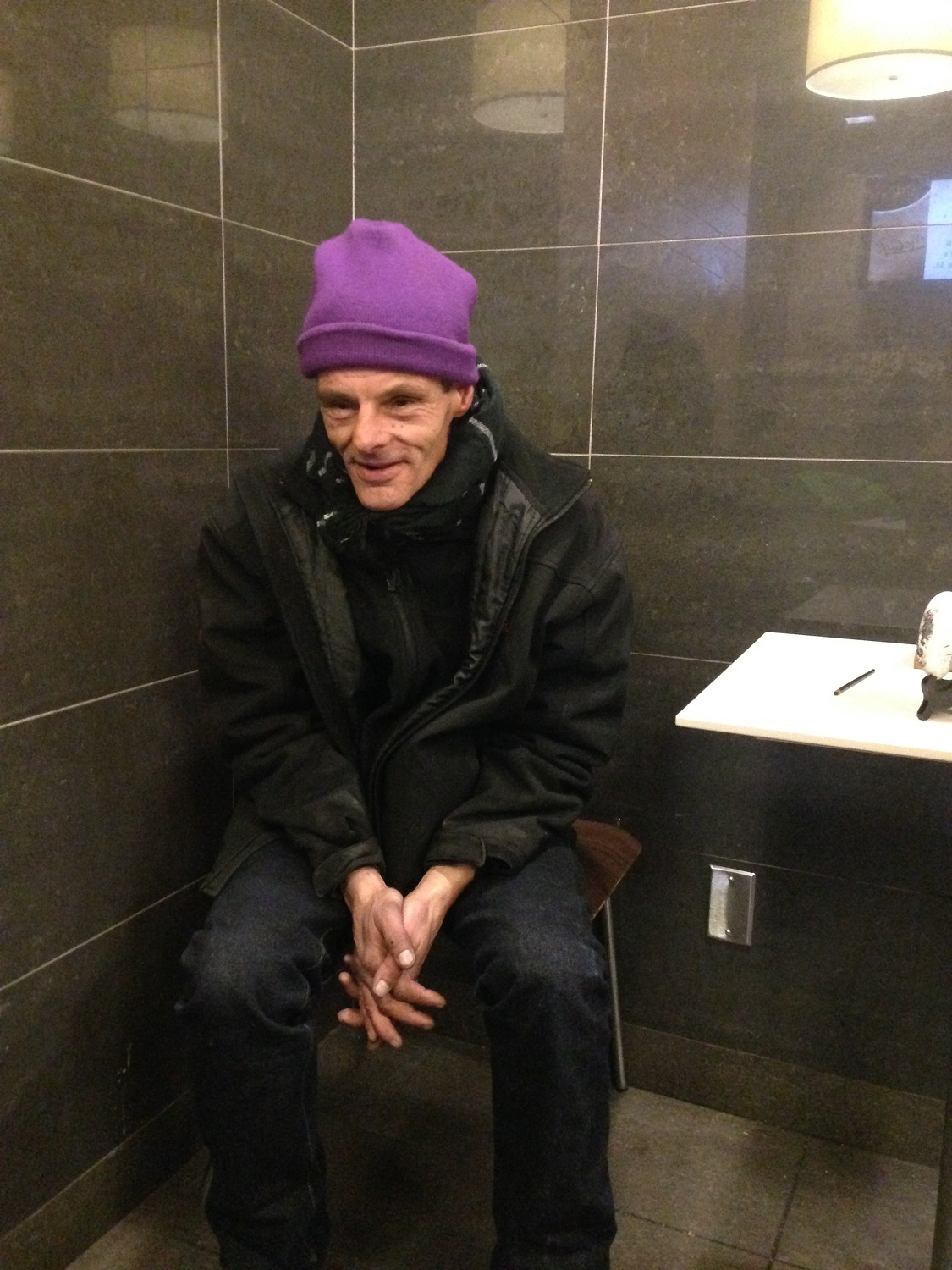 Fortunately for Roger, his consideration for others seems to be reciprocated by the more advantaged customers. Erica Morgan, Janice Williams, and Scott Thiessen are three such examples. Currently in their early twenties, Morgan and Williams spend their days studying Event Planning at George Brown, while Thiessen pursues a career in music, largely influenced by Frank Ocean, through the Independent Song writing program at Seneca. The three students undertook a night out on the town in the Madison Avenue Pub and decided to satisfy their cravings with the economical prices and familiarity of McDonald's, where "the nice, efficient employees…don't treat you like you're drunk." Thiessen describes the nature of the McDonald's as a perfect blend of "similarity and diversity," a perfect way to describe the medley of unchanging routine and food with the ever-changing personality one observes with each visit. According to Morgan, those that have a home, and can feel safe at night, should not spend their nights in McDonald's. "We are privileged," said the crown-tattooed event planner, admitting her hypocrisy. "It's open 24 hours, it's warm…it's hard for them to trust people, I'd give them whatever I have, no really, it makes me cry."
For some, McDonald's is not a means of escape, but one of community. Around the corner from the cashiers, back facing the line-up—so not to be disturbed in his reading—sat a man and his friend, each with their own bible, expressing their scriptural sentiments to one another while drinking their McCafe and eating their respective boxed meals from home. "I grew up in one of those pedophile schools. Thousands of kids were molested," the security guard who wished to remain anonymous said. "The priests were caught just about ten years ago, I refused to testify. I was taught by Jesus to never take vengeance." The priests in question were between the ages of sixty-five and eighty-five and each received five years' house arrest. "I don't know what you call that," he said, "not justice." Although he does not consider himself Christian, and disagrees with many of the opinions of Pope Francis, he continues to find wisdom and relief within scripture. The guard, and the other man who spoke to my friend after stating he did not wish to be interviewed, were repeatedly interrupted by another customer, interrogating the two men about their silence upon his arrival, and howling at my friend, "You better run, girl, run." The guard disregarded the consecutive attacks; he has learned to ignore such criticism after his rediscovery of religion and after his wedding day in 2014.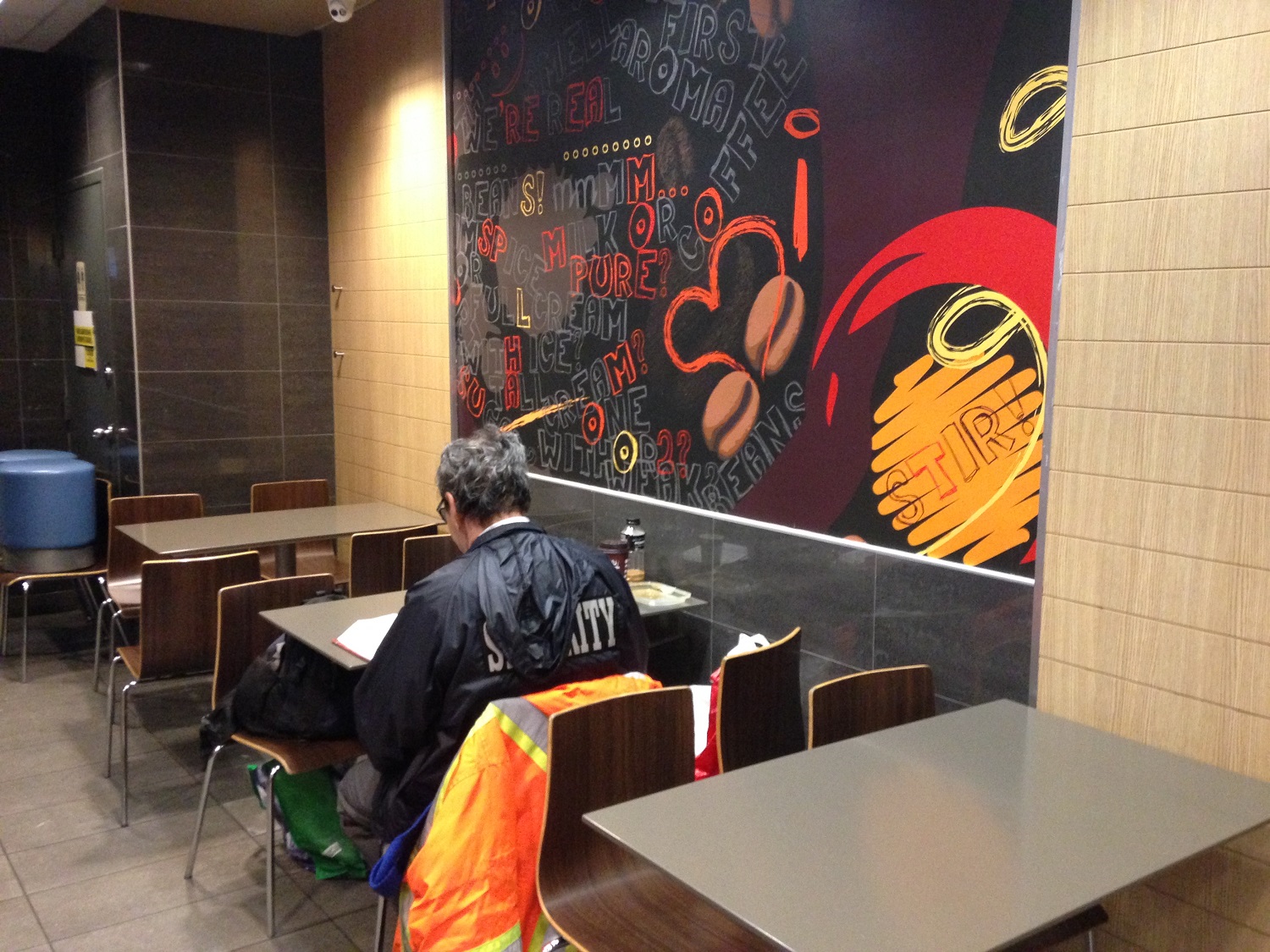 The explanation of my research at McDonald's to a man waiting at the register prompted a question I was asked several times: "Why the fuck are you doing that for?" Based on the appearance of the restaurant alone, this question is justified. It is unsettling to buy food among the diverse and visibly distressed clients. But the diversity is surprisingly welcoming. At night, McDonald's is a reservoir for people in search of something. For university students, it is often the search for assembly, or for drunken sustenance, that draws them. But as temperatures drop, the homeless and the misunderstood search for their own assembly. Assembly that will give them shelter that their own city may struggle to provide, and that will give them the possibility of acknowledgement.
"I have a theory that the truth is never told during the Nine-to-Five Hours." – Hunter S. Thompson