At the end of October, six authors gathered in Toronto's Koerner Hall, having been shortlisted for this year's Scotiabank Giller Prize, one of the most notable prizes in Canada. The event was dubbed "Between the Pages."
Shortlisted candidates travel from coast to coast to present excerpts of their nominated works and are offered a chance to discuss their work and creative lives. Having already made visits to Ottawa, Halifax, Vancouver, and Winnipeg, Toronto was the writers' last stop before moving on to New York City, the only non-Canadian location.
The Giller Prize was established in 1994 in honour of journalist Doris Giller. It has since been instrumental in supporting the increasing recognition of Canadian literature. Notable winners of the annual prize include Alice Munro, Margaret Atwood, Mordecai Richler, and Michael Ondaatje.
This year's six nominees were selected from a longlist of twelve works, which in turn had been chosen from a pool of 117 submitted titles.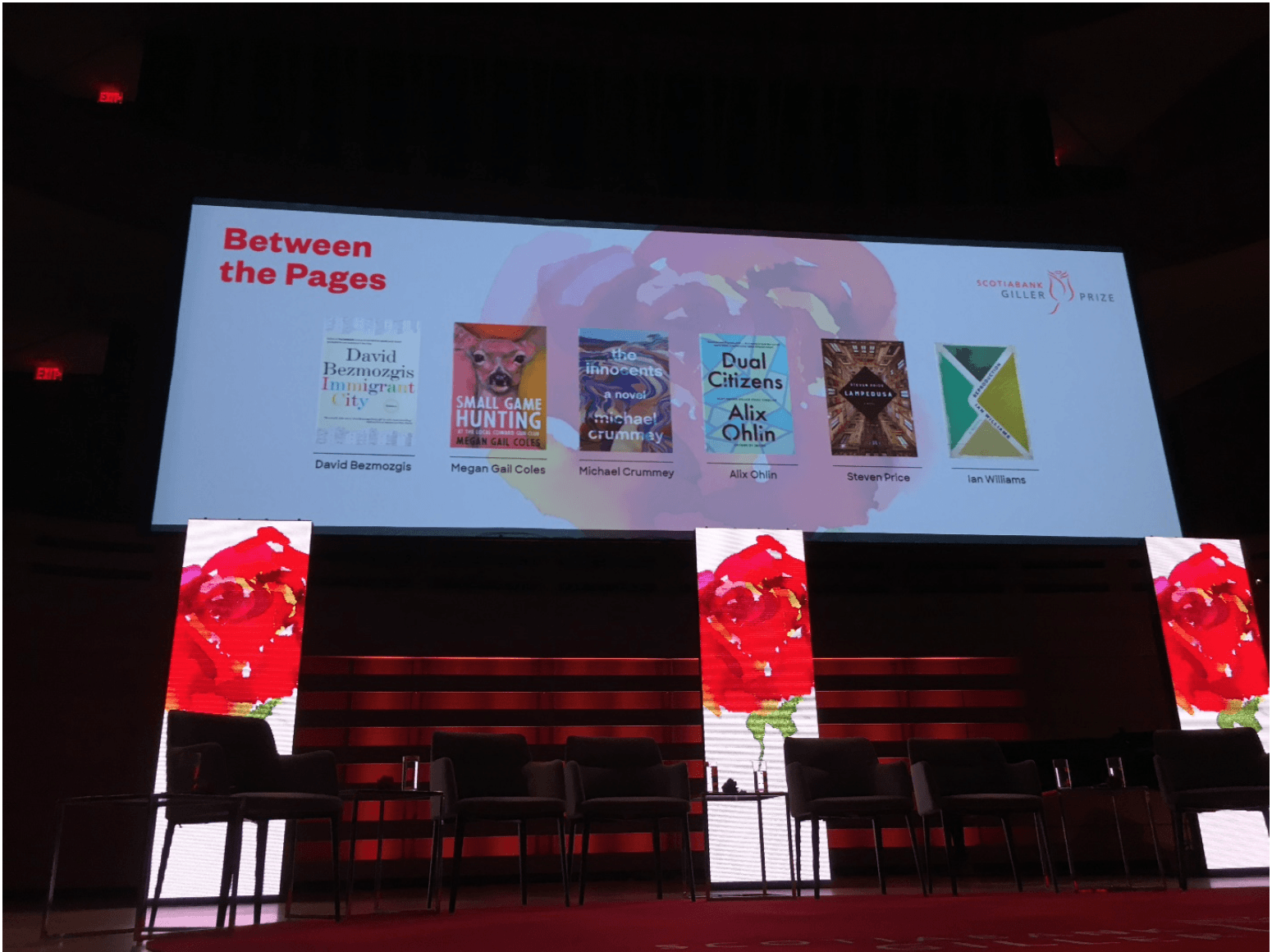 The Koerner Hall stage set up for Between the Pages
Ian Williams was first to present an excerpt from his novel, Reproduction. As he describes it, the novel is "a story of how strangers become family." It opens with two people, Felicia and Edgar, meeting in a hospital room as both of their mothers are dying. Despite their different backgrounds and perhaps not fully understanding each other, they form a bond that shapes the next several years of their lives. The novel explores how race, class, and identity influence love and family connections. Williams himself holds a Ph.D. in English from the University of Toronto and has held residencies in Canada, the United States, and Italy. He is currently an assistant professor of poetry at the University of British Columbia. His poetry and short fiction collections have been nominated and shortlisted for a number of other awards.
Steven Price is an acclaimed poet who has previously been longlisted for the Giller Prize. His shortlisted novel for the prize this year, Lampedusa, takes readers to 1950s Sicily and into the mind of Giuseppe Tomasi di Lampedusa, the last prince of his line and an author struggling to finish his manuscript before he dies. Those familiar with Italian literature will recognize the name; Giuseppe Tomasi is famous for his novel Il Gattopardo, translated as The Leopard, and Steven Price describes it as having been very important to him in the last twenty years. Price's novel begins with Lampedusa in despair, with only two years left to live, and tells the story of a man attempting to create a genuinely meaningful legacy, as well as discovering how to live again, even at the end of his time on Earth.
When it came to her turn at the microphone, Megan Gail Coles declared bluntly, "I wrote a novel about misogyny, racism, and classism in modern-day Newfoundland." Small Game Hunting at the Local Coward Gun Club is her debut novel, having written an equally descriptively titled collection of short fiction, Eating Habits of the Chronically Lonesome, as well as multiple plays. The entire book takes place over a single day in a restaurant in Coles's native Newfoundland and Labrador and is divided into three sections: Prep, Lunch, and Dinner. It switches between multiple narrators and begins with a warning in the very first page: "This might hurt a little. Be brave."
David Bezmozgis's short story collection Immigrant City marks the third time the author has been a finalist for the Scotiabank Giller Prize. The "immigrant city" in question, where most of the stories in the collection are set, is Toronto, and Bezmozgis's book reframes the lives of immigrants to include not only the difficulties of displacement, but also the complexity and depth of the shared experience. Born in Latvia and having moved to Canada at a very young age, Bezmozgis draws from his own perspectives and those of his family to explore the vibrant, multicultural nature of Toronto. The brief excerpt he read from the collection's first story is infused with both wit and earnest insight. Beyond his writing, Bezmozgis is an accomplished filmmaker and is the director of the Humber School for Writers.
Dual Citizens is a tale of two sisters, Lark and Robin, who have a powerful "lifelong bond." In author Alix Ohlin's words, "it's about sisterhood, motherhood, the desire to be an artist, and what it means to be free and make the kind of life in the world that you want to have." Lark feels that her life has forever been in the shadow of someone else's, including her mother, her sometimes-lover, and her sister, who is remarkably different from Lark herself. The novel follows Lark and Robin from childhood to adult life, exploring the pursuit of self-fulfillment and the meaning of truth. Ohlin has written two novels and two short story collections. She has also taught English and creative writing at multiple institutions. She is currently working at the University of British Columbia as chair of the Creative Writing program.
"I like to say that if you set aside the incest, and the cannibalism, and the robbing pirates, it's more or less a straightforward coming-of-age story," said Michael Crummey of his novel The Innocents. He was joking, but only about the pirates. The Innocents is about a brother and sister from eighteenth-century Newfoundland who have lost their parents and baby sister. Alone at the ages of eleven and nine, the two struggle to survive as they grow up over the coming years. Their love and loyalty to each other helps carry them through the seasons. Crummey cites his Newfoundlander background and his experience growing up as part of the reason he chose to tell this particular story about how landscapes shape people and generations.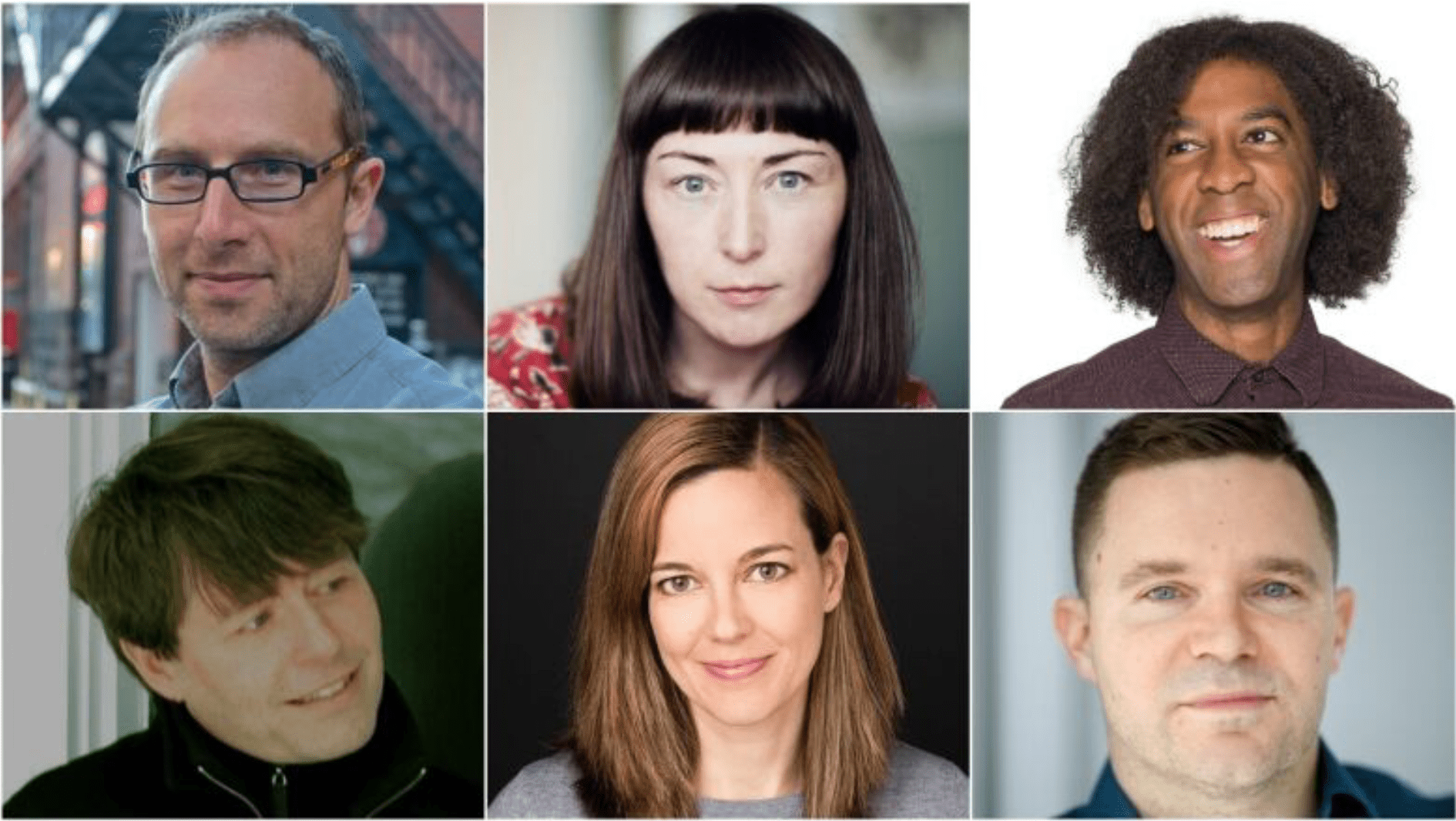 2019 Scotiabank Giller Prize Shortlisted Authors (clockwise from top left): David Bezmozgis, Megan Gail Coles, Ian Williams, Steven Price, Alix Ohlin, Michael Crummey. CBC.
In the open discussion that followed the readings, the writers discussed the role of fiction (especially in today's world) and what inspired their works. Michael Crummey noted that his inspiration had been a story he encountered of a travelling clergyman who had found a brother and his sister, pregnant, living alone in a cove, and had proceeded to condemn them for what had apparently transpired. Crummey had written his story with the intent to do "exactly the opposite" of what historically had been done, and to approach it with compassion, offering the siblings some "inherent dignity."
Alix Ohlin expanded on the point of fiction as a vehicle for compassion, describing how reading had allowed her to learn about the diversity of life and about cultures around the world. Steven Price echoed the sentiment, saying, "Fiction reminds us of the dignity of lives that are different from our own, and the way that it [has of] letting us get inside the head of someone else." Meanwhile, David Bezmozgis offered his own experience with writing, saying that he often blurs the line between his life and pure fiction, hoping "to create art out of everyday experience…to say something through this fictional vehicle that [he] probably couldn't say if [he] was going to do it literally."
Megan Gail Coles used the time to address the recent controversy over the Toronto Public Library and to declare her support for the transgender community. She said in particular that fiction allowed her to participate in communities all across the country, and to connect with people of different lived experiences, and highlighted the importance of effectively using the platform she has been given.
Ian Williams built off this to remind the audience of how vital it is to have the freedom to express diverse stories and opinions in fiction, and declared that the "the world has been a lot worse than this; we just happen to be here now." He instead left the audience with a question: how does fiction fit into a world where it has to compete with so many other factors for attention? These factors include technology and the constant updates world affairs in the news. On a planet that is more interconnected than ever, it seems easy for fiction to fall through the cracks. For Williams, however, the power of reading a book does not fade. He closed off the discussion and the night by saying, "The act of turning a page is really a miraculous kind of transformation."
The winner of the 2019 Scotiabank Giller Prize will be announced on November 18th.
"Fiction reminds us of the dignity of lives that are different from our own, and the way that it [has of] letting us get inside the head of someone else."